Welcome to ROOFADVISORS.COM
Here at Roof Advisors we want to put the power back into the Homeowner's hands. We measure, we analyze, and we advise to your specific situation. Watch the video to learn more about how we use modern day aerial and satellite technology to generate Custom Roof Reports for any Homeowner in the United States, BEFORE they even meet with a potential roofer.
Call us today at 585-310-8740
Who are the
Roof Advisors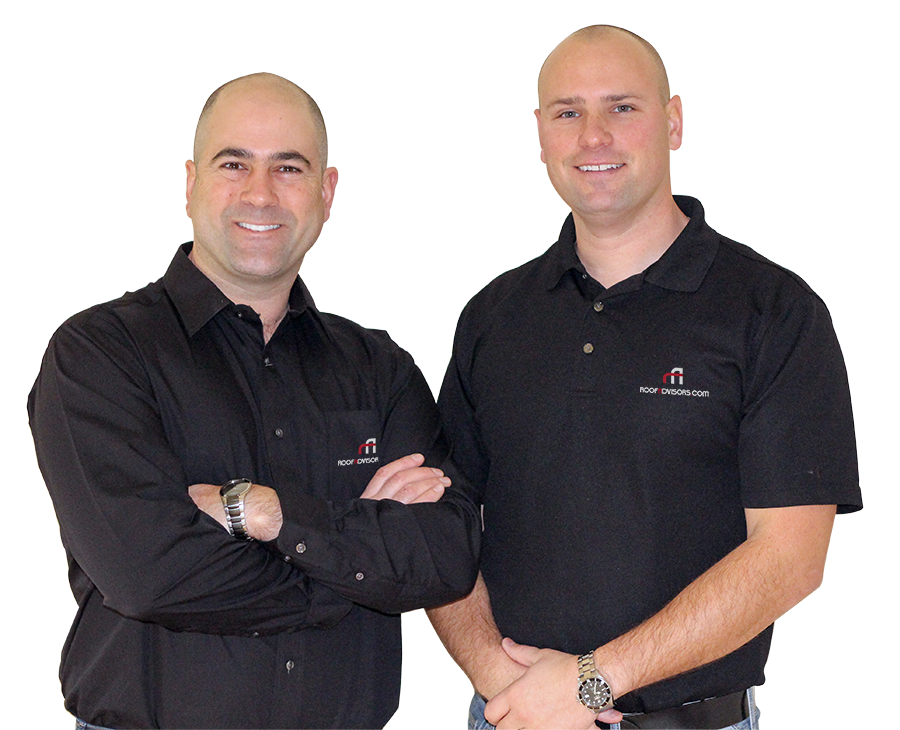 Meet Jason and Tim, the masterminds behind ROOFADVISORS.COM. With over 30 years combined experience in the home improvement, building and service industries, Jason and Tim have represented leading National and Regional GAF Certified & Master Elite, Owens Corning Preferred and IKO Shield Pro Plus Companies. Since 2004, they have spent countless hours in various National Training and Conference environments and have had every aspect of residential shingled roofing pounded into their subconscious.
Jason and Tim are NOT natural born salesmen, but through endless sales training they realized the roofing industry, as with every other sales based business, is consumed with "strong arm" closing tactics that can make you feel overwhelmed and pressured into spending more money. BUT, not anymore.
The team at ROOFADVISORS.COM, will fundamentally change the way you buy roofing and put the control back into the hands of the Homeowner.
With the Roof Report, you will be prepared and armed with the knowledge to face the sales pitch head on. You will understand roofing terms, you will see exactly what materials are needed for YOUR home, and most importantly you will have an accurate cost estimate. And if you don't want to deal with looking for a reputable company or interviewing those companies, ROOFADVISORS.COM will set you up with a reliable contractor prepared to honor the Roof Report so you can eliminate the sales pitch and hassle altogether.
The ROOFADVISORS.COM Roof Report uses modern day satellite technology to get precise measurements of your home which is then translated by roofing industry experts to a multi-page report customized specifically to your home. The ROOFADVISORS.COM Roof Report thoroughly outlines everything you need to purchase a roof and makes the process more efficient, more cost effective and more reliable.
WHAT'S INCLUDED IN THE ROOF REPORT?
Interview Questions
After you receive your ROOFADVISORS.COM Roof Report you will have all the answers you need. The ROOFADVISORS.COM Roof Report gives you a list of questions and answers specific to your home and your project taking the guesswork out of your contractor interview and keeping everyone accountable.
Product Knowledge
As the homeowner, you should know as much if not more than the contractor you are interviewing. The ROOFADVISORS.COM Roof Report describes each and every product and its purpose. With this information at your fingertips, you have the tools you need to be sure the contractor you choose is using the correct products and installing them properly.
The Roof Report Includes:
A 10+ page report, based on your specific home
Report includes materials, labor, and disposal costs for an asphalt shingle roof project or standing seam metal roof

Aerial and satellite images of your roof, with measurements

A list of important questions to ask your roofing contractor
And much much more
Questions? Get in touch! Call 585-310-8740!
QUESTIONS BEFORE PURCHASING?
Get in touch
Have questions before you purchase your roofing report? We are happy to answer any questions you have.
---
Connect
---
Follow
---
Business Hours